- Search the Follett Destiny web-based circulation program for our card catalog online.

- Click to search for materials in our library media center.

***Click on the forms link down below to download the Let's Get Reading link to "Open eBooks" app to access thousands of popular ebooks for free.
Check out our ebooks:
- Go to Destiny Discover search engine in our card catalog:

(username-clantonms and password- student)
Library Check Out Procedure
Did You Know?
The Chilton-Clanton Public Library is issuing FREE public library cards for students ages 16 and under. You will be allowed a hardcopy check-outs and digital access to eBooks. You must visit the library at 100 1st Avenue, Clanton with a parent or guardian. The hours are Monday- Friday 9-4.

Check Out E-books with Your Chilton-Clanton Public Library Card!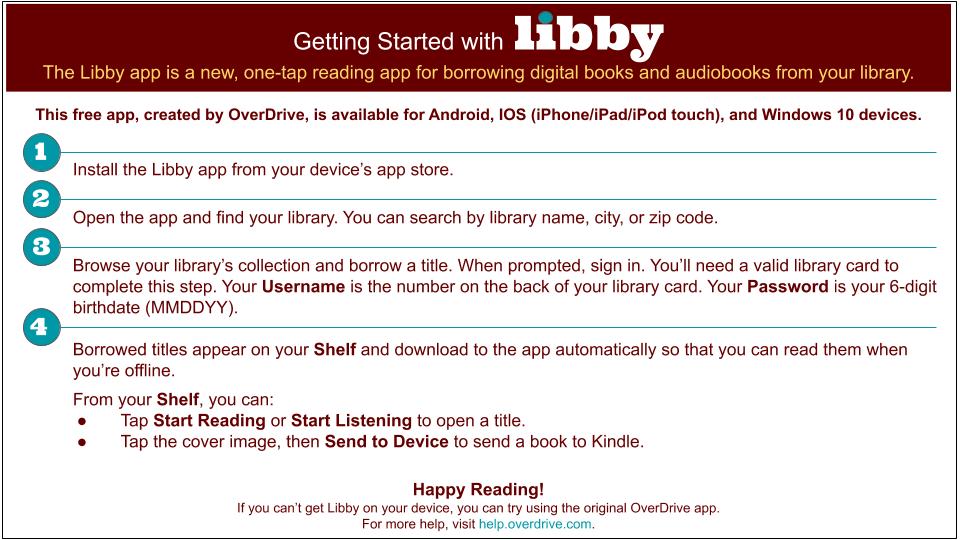 Chilton County Schools Library Mission Statement

The primary objective of the Library Media Center is to implement, enrich and support the educational programs of CMS. It is the duty of the center to provide a wide range of materials on all levels of difficulty, with diversity of appeal, and the presentation of different points of view.

Chilton County Schools Library Vision Statement

The vision of the Chilton County Media Center is a student centered program that promotes effective learning and teaching strategies and activities with information access skills through collaboration, leadership and technology to ensure that students with the school community become lifelong learners.

CMS Circulation Policy

Books may be checked out for a period of 2 weeks and must be checked in or renewed at the end of 14 school days. A student having an overdue book will not be allowed to borrow materials until the overdue book is returned.
Forget your AR Login information?
Username: First and last name as one word
Password: It is your 10 digit 19 number
Example 19_ _ _ _ _ _ _ _or 200
_ _ _ _ _ _ _
Alabama Virtual Library

The state of Alabama funds this site to assist students and parents with their research needs. There are student and adult resource tabs which link you to various information from reputable reference sites. Search from the link below: